"I wanted to keep

my prospects open."
Here you will find exciting biographies and careers that are exemplary for our group of companies. Get inspired and discover how people make the most of their personal opportunities and professional goals with us!
Simon G. is the head of the machining department at the age of 30. Like many others at MOLL, he has gone through a remarkable career within the company, starting out as an apprentice and eventually becoming a manager with personnel responsibility. The key to this was ongoing education.
"Qualification is a vital door opener."
It all began with my training as a precision mechanic here at MOLL. Early on, I was involved mostly in assembly. Then I came to machining – well, and then they wouldn't let me go (laughs). Following my apprenticeship, I worked as a journeyman mechanic for three years. At the same time, I started training to become a state-certified machine technician. It was clear to me that this would open more doors for my future career steps.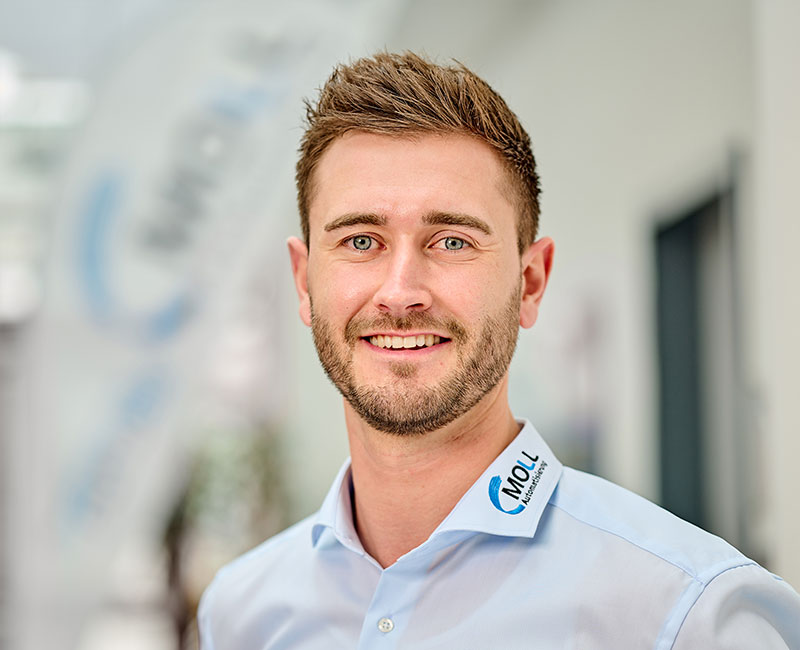 "I am a programmer and a practitioner at the same time."
Putting it in a nutshell: I now control the same machines that I used to operate in the hall from the computer together with a team of experienced programmers. This is growing increasingly relevant since workpieces are becoming more and more complex. You can't just clamp the part in the machine and start work. Of course, the transition from 3D drawing to the actual object has to come at some point. That's when I sit down with the journeymen out in the hall to discuss how to best implement the things at hand on the machine. I am, therefore, a programmer and a practitioner at the same time. That makes my working environment so very exciting and versatile. Now I work at the computer, now in the factory hall. On top of that, there's all the deployment planning – and my additional job as a training manager!
"Plunging into the deep end."
Actually, I was only supposed to be a department head for the moment. Then the function as training manager was added to my tasks for personnel reasons. That was a completely new area for me. It really meant plunging into the deep end. My professional competence made the practical aspects of leadership easy for me. I was entirely new to leading people, however. I always tell myself that I will grow with my tasks. Then I have some colleagues from other departments to exchange ideas with. That is a particular advantage here at MOLL: Support and cooperation can be found everywhere, and everyone pulls together.
"Promoting young talent equals an investment in the future."
Recruiting young talent is growing increasingly challenging these days. The number of apprentices is reducing. Young workers are getting even more support today than they used to in my time. Anyone who wants to continue their education will be fully supported in their plans, e.g., in the form of extra days of leave and financial subsidies. That is a huge advantage at MOLL, along with the large machinery pool, where the young apprentices really get to know all the processes. We currently have 17 apprentices and 22 journeymen in the machining department. That is quite a respectable number. It also equals an investment in our own future. Ideally, the apprentices will stay on after their training. That is, in fact, quite often the case – and shows that what we offer is attractive.